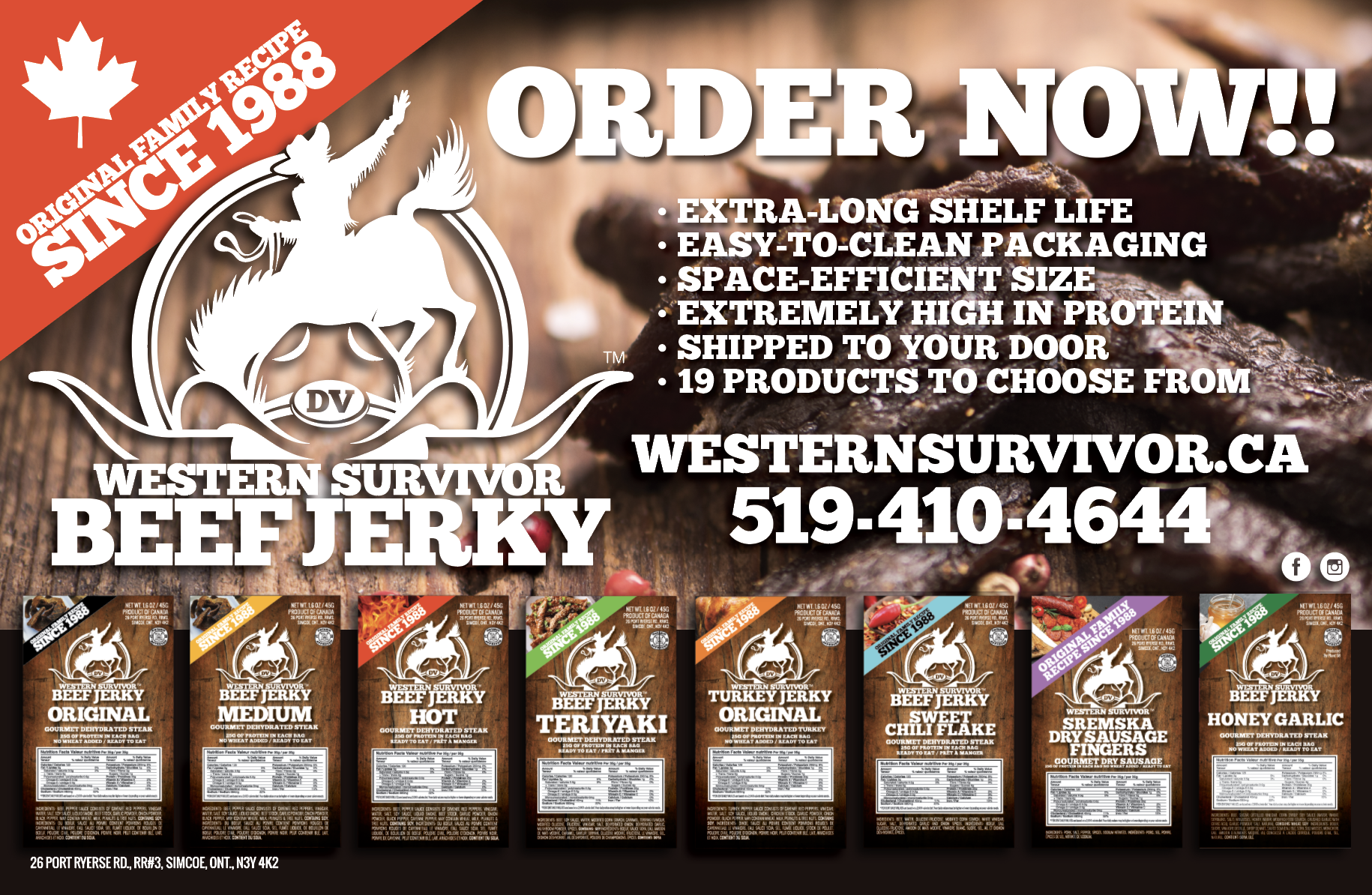 QUALITY MEATS
Locally sourced meats from family operated Ontario producers.
AMAZING FLAVOURS
Using a variety of quality ingredients, Western Survivor has created a large line of unique flavours.
UNIQUE PROCESS
A perfected family recipe that started in 1988 and evolving to a 30 hour marinating process, making it the best dehydrated meat products on the market.
A FAMILY SPECIALTY SINCE 1988
Made with high quality meats, Western Survivor Beef Jerky is marinated over 30 hours to achieve the perfect flavour and consistency.
The recipe has been handed down through the generations in the Vandall family and perfected to the real deal jerky it is today.
Originally tested  by hunters in Northern Ontario, the current recipes have been perfected to achieve maximum flavour that is not too sweet and not too smoked. While we know traditional jerky fans will love our recipe, we also found that everyone liked the flavour and feeling of our perfectly dehydrated Western Survivor Beef Jerky.
Western Survivor participates in events and festivals all over Ontario. Want to know where we are heading next? Check out our event lineup here.
WHAT PEOPLE ARE SAYING
Great food. Love the jerky and love to share with the family

.
Bought for first time at Owen sound rib fest. Amazing jerky love that it's actually dry like jerky should be lots of flavours wish I got more lol

.
I am a jerky lover and this the best! My husband, who is a very hard person to impress was very pleased with the jerky. I was going to share with my mom but how do you eat just one?!

.
The best beef jerky I have ever tasted!

.
Beyond amazing , Adam has been making this jerky for years and I'm so beyond happy he is back to making it – full time !

.
Tastes great and has no sugar!!!!!

.
Bought some jerky and pepperettes at the Tillsonburg Ribfest today. Western Survivor was awesome, great flavour. Will buy again. Thanks Adam and team for a great product.

.